News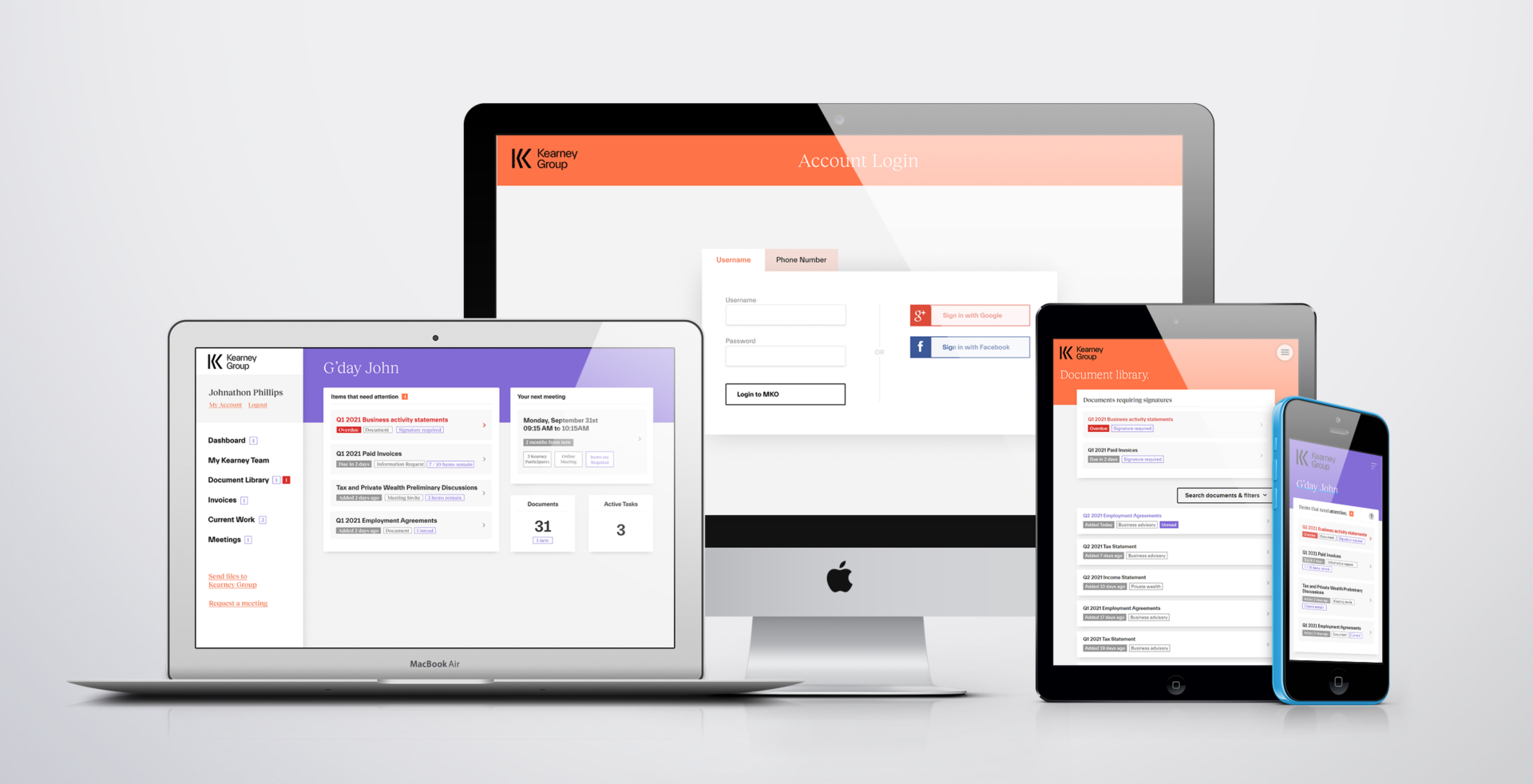 Kearney Group launches Konsole client portal.
Kearney Group is pleased to officially announce the arrival of Konsole – our new client portal that gives you access to everything you need, when you need it.
Konsole has been custom built to reflect Kearney Group's truly integrated advice offer and will begin rolling out in the week beginning 11 April 2022.
Konsole client portal launches April 2022.
At launch, Konsole is a fully-featured replacement for the Group's current MyKearney Online portal.  A heap of new functionality is slated to arrive later in the year.
"This is a really exciting period," says James Lewis, Partner and Business Systems Development Manager with the firm.
"MyKearney Online was a game changer for our clients when it launched in 2013. A decade on though, it's showing its age," he says.
A fully accessible client portal with world-leading technology.
Describing Konsole, James tells us the new client portal is fully accessible across all devices. And, it's been designed to integrate with the Group's world-leading technology partners in eSignature, payments and online security.
"In Konsole, you can manage your personal information and digitally sign critical documents like financial statements, tax returns and other time-sensitive forms at the click of a button, from your phone, tablet or computer," says James.
Konsole also gives you access to your signed documents in a secure and centralised 'library'. So, gone are the days of hunting for last year's return or hanging onto dusty old paperwork in case you might need it one day.
New Konsole features arriving in coming months.
Over the next few months, James tells us we can expect a range of additional functionality to arrive. This includes new components that allow you to:
Book and manage meetings with your advisory team;

Securely send us information we need to provide service to you;

Manage your data in a simpler, centralised and more intuitive way;

Track the status of jobs that we're working on for you;

View, manage and pay your invoices;

Keep track of your subscriptions (e.g. Xero).
Keep connected with Konsole.
"The launch of Konsole is a major win for our clients and the digital experience at Kearney Group," James says.
And, over the past few years, the world has learned just how critical it is to be digital ready.
It was Kearney Group's technological leadership that allowed the firm to pivot to full working from home arrangements in a few hours when the COVID situation began to seriously deteriorate in March 2020.
"Our leading technologies and commitment to flexible work meant our team made the transition instantly, and got right back to helping our clients – many of whom were seriously concerned and struggling," says James, remembering the early days of the pandemic.
Two years on and "our focus is ensuring each and every digital interaction we have with you is on par with the experience we can provide face-to-face. Konsole represents a very big next step in that journey," James concludes.
Get ready for Konsole.
If you're currently using MyKearney Online, your move to Konsole will be a snap.
In the coming days, your account will be automatically rolled over to Konsole. You'll receive an activation email when you're all ready to log in. Best of all, any content you currently hold in your MyKearney Online Library will carry over to your Konsole account. So, there's really nothing to do but sit back, relax and keep an eye peeled for our email.
If you're new to Kearney Group and keen to set up a Konsole account, just reach out to your advice team.
Financial advice, in the flesh, in Fitzroy.
Love digital but have a hankering for humans in the flesh? Us too!
In case you missed it, we're thrilled to bring our award-winning financial advice to Fitzroy and hope you'll stop by our new office soon.
Kearney Group
Suite 137, 425 Smith St
Fitzroy VIC 3065
In the meantime, you can keep up to date on our website and socials.
And, if there's anything we can do, don't hesitate to get in contact.