News
COVID-19 financial assistance: 100 days and $12.2 million impact.
On March 16, 2020, we first closed our doors to the public to do our little bit for our community and global health in the wake of the coronavirus pandemic. Within hours, our team had shifted to full working-from-home arrangements and began providing specialist COVID-19 financial assistance and business advice.
Today, June 24, marks 100 days since we closed our doors and began the crucial task of helping our clients navigate the uncertainty of life and business during COVID-19.
Here's what we've been up to from lockdown.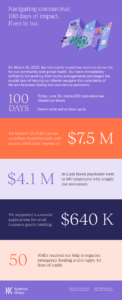 COVID-19 financial assistance: $12.2 million impact.
In the past 100 days, we've helped:
125 businesses to access $7.5 million in JobKeeper payments.
100 employers to access $4.1 million in Cash Boost payments.
secure $640,000 in small business grants.
50 SMEs organise emergency funding and assisted with applications for lines of credit.
While unquestionably imperfect in its design (creative sector, we're looking at you), the economic stimulus released by the Australian Federal Government, including the JobKeeper and Cash Boost schemes, have provided an essential safety net for many. As a result, countless businesses have been able to keep their doors open and their hope alive. And that, in turn, has kept our friends, family and community in much-needed work during coronavirus.
We're here.
To discuss your business' eligibility or for COVID-19 financial assistance including JobKeeper or other Government stimulus, contact a Kearney Group Business Adviser.
Our team can assist with:
determining your eligibility for stimulus, including performing turnover calculations.
helping you identify eligible employees.
assisting with your ongoing payroll responsibilities, including reporting to the ATO.
enroling for JobKeeper program with the ATO.
reconfirming eligibility of your employees.
tracking and reconciling JobKeeper payments.
organising emergency funding or loans.
planning for your business in a Post-COVID-19 world.
Learn more about Kearney Group's Business Advisory services, including our leading business growth and strategy program, Ko-Lab.