Article
Outsourced Bookkeeping: should I hire a bookkeeper?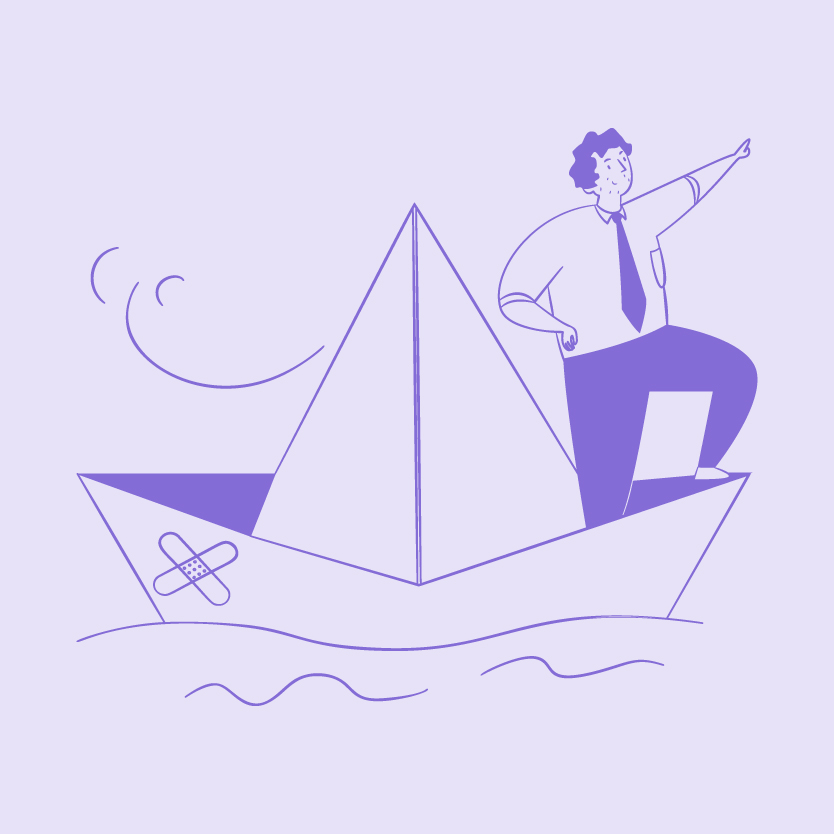 When you run your own business, you wear many hats: you're the owner, the salesperson and the 'accountant'. When you're just starting out, it can be tempting to do your own bookkeeping to save money. But what happens when your business starts to grow? Or your family situation changes and your time gets more and more stretched? What happens when you're ill, absent or just need a holiday? If you're feeling the weight of managing your business' finances day-to-day, it could be time to consider outsourced bookkeeping. 
So how do you know if you should hire a bookkeeper or outsource your business' bookkeeping?
Here are 5 signs you should handball the numbers to an expert so you can get back to what you do best: running your business.
Why you should hire an outsourced bookkeeper.
1. There are just not enough hours in your day.
It's no secret: small business owners are time-poor and become jack-of-all-trades to keep everything running. And, you manage the juggle pretty well. Except that time you missed paying your staff when you were ill. And those times you worked through the night trying to sort out a cashflow crunch or get a tricky Business Activity Statement submitted – you were not in your family's good books those nights.
In business, the more you grow, the more there is to do and consider. And the time spent on managing your money expands as well.
In our world, we meet a lot of small businesses and one of the recurring indicators of success is the owners' ability and willingness to strategically delegate. Simply put: every hour you spend doing something you're not passionate about, or isn't well aligned to your skills, is an hour you don't get to do the things that really matter to your business and your family.
Hiring a bookkeeper frees you up to focus on the things you love and are good at, rather than getting lost in your admin and finances.
2. Simple mistakes turn out to be costly.
When it comes to bookkeeping and tax, even the smallest slip-up can cost you. Believe it or not, mistakes are often the moment that prompts a business to come and see us. Unfortunately, by this point, it can be an expensive fix. 
Whilst many errors and oversights can be rectified with a little time and effort, others can have more serious consequences: legal and expensive ones (and no one likes those)!
Unless you're well versed in business and tax law, doing your own bookkeeping presents a very real compliance risk. Missing deadlines, underpaying staff, and not keeping track of records properly can end up costing more than hiring someone to do your books in the first instance. 
Beyond the financial penalties and heartache that can be avoided with an outsourced bookkeeper, the peace of mind is also invaluable. It really is hard to put a price on knowing a professional has your back.
3. Everyone needs a break, even bookkeepers.
When was the last time you took some time off? Not just the opportunity to go on a holiday, which everyone needs at some point, but time off to truly rest when you're sick or care for a loved one who needs looking after? These are realities. 
Your business may be one step ahead and have someone internally who manages your finances. But what happens when they go on leave, get sick or even worse, resign? Who else has an understanding of their work? Who knows the story behind your business? Who could pick up and run with your bookkeeping at the drop of a hat? Anyone… anyone?
If you hire or outsource your bookkeeping to a single bookkeeper, the same issues arise. When they get sick, go on leave, close down… you're left in the lurch.
But everyone needs a break sometimes – even bookkeepers!
That's why we recommend hiring a team of outsourced bookkeepers, like the truly integrated advice teams at Kearney Group, to ensure you have continuity and coverage, every day of the year.
4. You're craving ideas and insights.
Now full disclosure: not all bookkeepers are created equally. But here at Kearney Group, our approach gives you access to a team of experts with insights into things you never knew you never knew.
Yes – you get a brilliant bookkeeping service. But you're also surrounded by a whole team of professionals who are trained to look beyond the immediate problem to be solved, and to find new and novel ways to help you grow.
With all our combined services and skill sets, we're able to give you insights into your business. And with 35+ years of experience, working across a huge range of professions and industries, we have ideas and strategies you just couldn't expect to get from a single adviser, bookkeeper or accountant working alone.
With Kearney Group on your team, you get to tap into the vast network of our experience, without the bloat of additional overheads from permanent staff. And yet – you get to call on us as if we were an extension of your team.
Throughout, we're here to know you and guide you through the ins and outs, the ups and downs. To coach you through the tough bits and to remind you to celebrate the wins along the way.
5. You want to reclaim a little bit of 'you-time'.
It's not selfish or unrealistic to want a bit more time for you, your family and your health. The reason you started your own business was because you had a passion for what you did: what you did well. When we venture into areas that aren't our expertise, the one thing that always suffers is our time.
By handing your finances over to a bookkeeper and letting go of something that isn't your area of strength – or, let's be honest, interest – you regain a bit of freedom to focus on what's equally important: your personal life!
Ready to outsource your bookkeeping?
Get in touch if you're looking for some extra assistance to manage your bookkeeping and accounts – or just about anything related to small business (think: cashflow tracking, budgeting, tax, compliance, strategy, etc).
And, if your business is growing or changing shape quickly, you can always come across with the assurance that you'll have access to the support you need, when you need it. From a basic BAS to complex accounting and business strategy advice, integrated financial advice for your household, mortgage and commercial lending assistance, and insurance… we've got you covered.
In a bind with
your books?
Whether you're short on time or hungry for ideas, find out how outsourced bookkeeping can let you get back to what you do best.