News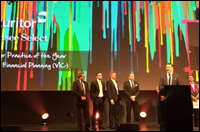 National Practice of the Year Honours for the Kearney Group
It's hard to stand out in a room full of hot pink handbags and fluorescent neckties. But that's just what the Kearney Group managed to do when it was named National Practice of the Year at Securitor Financial Group's annual Gala; this year, a black tie event 'with a touch of neon' held in Hobart on April 11.
Brad Cooper, Chief Executive of BT Financial Group, and Securitor's Managing Director, Matt Englund, were in attendance to present the award to Kearney Group founder and CEO, Paul Kearney.
"This belongs to the whole practice," said Kearney, as he called members of the team to stage to accept the award together. "They should be very proud of what they've achieved this year. It's been busy and full of some really significant changes and without the whole practice on board, none of it would have been possible."
One major change was the introduction of the MyKearney Online web portal which allows clients to securely exchange and digitally sign sensitive financial documents at the click of a button. Also of note was the Kearney Group's move to electronic Portfolio Reports, introduction of the firm's Welcome Home Loan service, and the development of real-time business reporting systems which allow the practice's employees to track performance against targets, view historical trends and assess future performance using complex forward projections.
"Choosing the Securitor Practice of the Year," said Matt Englund, "is without question the hardest decision we make all year; to even be considered you must be amongst the very best in the industry. Yet this year, the decision was simple. The relentless focus on what is best for their clients, the attention to detail in running their business, continuous investment in their team and advocacy for our profession made the Kearney Group the obvious choice."