News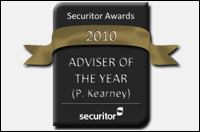 Kearney Named Securitor's Adviser of the Year
The Kearney Group is pleased to announce that Kearney Financial Planning has again been awarded top honours by its licensee, Securitor.
In addition to being recognised as Securitor's Practice of the Year in 2008, the firm was thrilled by today's announcement that Principal Paul Kearney has been named Adviser of the Year (Victoria) for 2010.
Kearney is now being considered for the national award. The winner will be announced at the Securitor Convention in Adelaide next month.
Read the media release