News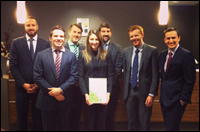 Kearney Group named 2015 Practice of the Year
The Kearney Group is pleased to announce that the firm has again been named Securitor & BT Financial Group's 2015 Practice of the Year for Victoria and Tasmania. This award marks the firm's fourth such award in the past five years, and closely follows the practice's Victorian and National titles in 2014.
After an extensive application process, which included comprehensive Practice Benchmarking and a Client Experience Survey conducted by independent researchers from Beddoes Institute, the Kearney Group "emerged as the clear winner," said Mark Fisher, Managing Director of Securitor.
"It's great to be recognised by our community, our regulators, and most importantly, by our clients," say the firm's CEO, Paul Kearney. "While there are always improvements to be made, it's good to know we're at least tracking in the right direction. We know the Kearney Group delivers advice differently than most firms, so it really matters to us that our people connect with our service offering."
With this Victorian award, the Kearney Group is now in the running for the National Practice of the Year title. The National winner will be announced at the annual Securitor Convention to be held in Canberra next month.