News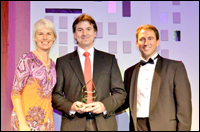 Kearney Group Named 2011's National Practice of the Year
The Kearney Group returns from the 25th annual Securitor Convention in Singapore as the 2011 National Practice of the Year.
Matt Englund (Head of Dealer Groups for BT Financial Group) described the title as a "hotly contested" before Gail Kelly, CEO of Westpac Bank, presented Principal Paul Kearney with the award.
Read all about it here.