News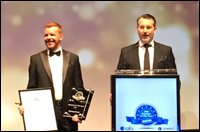 Kearney Group AFA's 2015/16 Practice of the Year
We're thrilled to announce the Kearney Group has been named 2015 Australian Practice of the Year by the Association of Financial Advisers (AFA).
The award was announced at the closing ceremonies for the AFA's national adviser conference in Cairns, on Tuesday night, before a crowd of 700 advisers and practices from across Australia.
"We're very humbled," said Kearney Group CEO, Paul Kearney. "The AFA Awards process is extremely rigorous and it has been an incredible experience; we've learned so much about our clients, our advisers and the way we do business."
The AFA Awards are known to be some of the most competitive and sought after in the industry. The multi-stage process involves an initial application, detailed client survey, practice benchmarking, phone interview, formal site visits, case study and a final bid for the award before the judging panel, at the AFA's Finalist Showcase.
The Kearney Group delivers an "amazing advice experience" to its clients, said the AFA. "The business is driven by the desire to lead industry change through developing innovative technology that is both novel and radically useful and strives to build first-class relationships with clients that empower client decision-making."