Article
Can you recycle that in Melbourne? A do-gooder's guide for recycling and donating.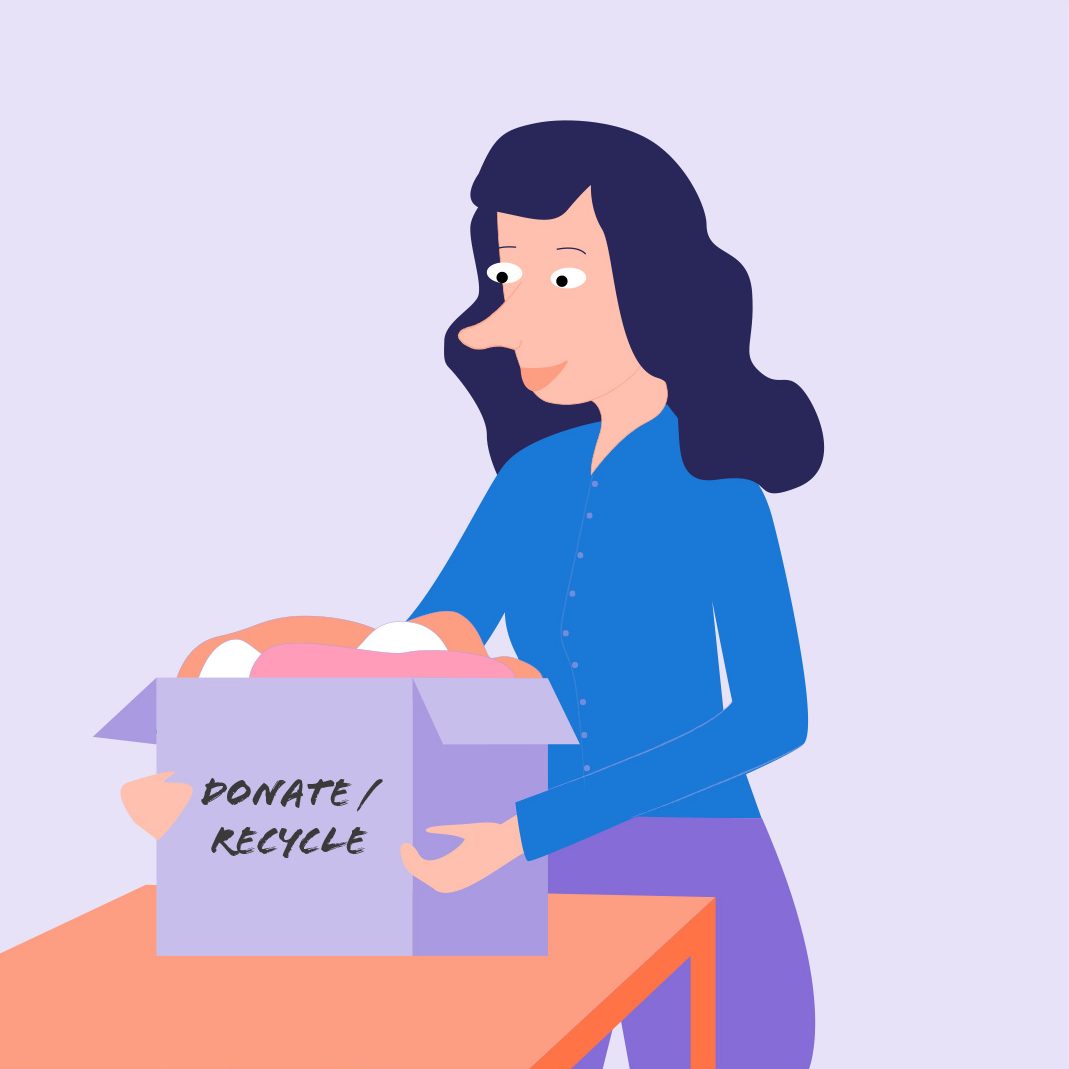 Here at Kearney Group, we're doing our best to make the world a better place – in all sorts of ways. From launching our very own ESG-rated ethical investments to seed funding the Indigenous Knowledge Systems Lab at Deakin University, we're looking for ways to shake up the blah-blah-blah and do our bit.
We got to chatting around the water cooler, sharing some tips and the names of great organisations doing wonders in our community whilst helping to minimise waste and our impact on people and our planet.
It was such a hit amongst our team, we decided to pull together our "Do-Gooder's Recycling & Donation Guide".
Our Guide is ever-changing, so be sure to bookmark this page which includes just some of our favourite Melbourne / Australian-wide charities and businesses that are helping people to repair, repurpose or recycle common household goods that are otherwise doomed to hit the landfill.
You can search, sort, filter this Guide and submit your hot tips to ensure this list is always expanding.
Thanks for helping us make a positive impact in our community. And without further ado, we bring you our…
Do-Gooder's Recycling & Donation Guide.
Here's our ever-expanding Do-Gooder's Recycling & Donation Guide for hard-to-recycle and difficult-to-donate items.
Updated: 23 March 2022
| Item | Condition | Reuse, repair, recycle? | Who can help? | Also try... | Notes |
| --- | --- | --- | --- | --- | --- |
| Baby items - bassinets, cots, clothing, prams, car seats | Good | Reuse Charity | St Kilda Mums | West Welcome Wagon | Support mothers, children via social workers / community orgs |
| Batteries | Broken / Spent | Recycling | Officeworks | Bunnings | |
| Blister packs for medication | Clean / Empty | Recycling | TerraCycle | Biome | |
| Books | Good | Reuse | Street Libraries | Your local Library | |
| Bottle tops | Any | Recycling | Biome | | Collects for Ocean Crusaders |
| Bread tags - plastic only | Any | Recycling | Bread Tags for Wheelchairs | Biome | Many local schools collect for this charity too |
| Brita water filters | Any | Recycling | Terra Cycle | | |
| Clothing | Any | Reuse & Recycling | Upparel | | Upparel sends clean / good items to partner charities; recycles damaged textiles |
| Clothing (Children's) | Good | Reuse Charity | St Kilda Mums | | |
| Clothing (Men's) | Good | Reuse Charity | Avalon Centre | | Supports ASRC and homeless community |
| Clothing (Women's bras) | Good | Reuse Charity | Support the Girls | Biome | Gold Coast-based charity |
| Clothing (Women's maternity) | Good | Reuse Charity | Caroline Chisholm Society | | Melbourne & Shepparton |
| Clothing (Women's work clothing) | Good | Reuse Charity | Fitted for Work | | |
| Coffee capsules | Clean / Empty | Recycling | TerraCycle | | Several programs available through TerraCycle |
| Contact lenses, plastic film and pods | Any | Recycling | Biome | | Try Lion's Club for new / unopened contacts |
| Contact lenses, plastic film and pods | New | Reuse Charity | Lions Recycle for Sight | | Try Biome for used contacts |
| Cosmetics and makeup products | Clean / Empty | Recycling | TerraCycle | Biome | Several programs available through TerraCycle |
| Dental hygiene - electric toothbrushes | Any | Recycling | TerraCycle | | |
| Dental hygiene - toothpaste tubes, toothbrushes, floss, packaging etc | Clean / Empty | Recycling | TerraCycle | Biome | |
| Egg cartons | Clean / Empty | Reuse Charity | Your local farmers market | | Return to egg sellers |
| Elastic bands | Good | Reuse Charity | Ceres | Your local farmers market | Use bands to bundle up food and veg from their farm |
| EWaste | Broken / Spent | Recycling | Check your council drop off centre | Officeworks | |
| Fabrics and haberdashery such as zips and buttons | Good | Reuse Charity | Greeve's Street Craft Project | | Craft Project offered by St Kilda Gatehouse |
| Fabrics, textiles and fabric scraps | Any | Reuse & Recycling | Upparel | | Clean / good items deployed to partner charities; ripped / damaged items recycled |
| Food | Good | Reuse Charity | ASRC | Foodbank | Asylum Seekers Resource Centre provides frontline support to refugees and those seeking asylum |
| Glasses - reading and sight | Good | Reuse Charity | Lions Recycle for Sight | | Please remove glasses from case before sending |
| Hearing aids | Good | Reuse Charity | Lions Recycle for Sight | | Yep! Not just glasses. Hearing aids too! |
| Household cleaning products | Clean / Empty | Recycling | TerraCycle | | Several programs available through TerraCycle |
| Inflatable toys and pool floats | Clean | Recycling | Sunnylife | | |
| Light globes | Any | Safe Disposal | PlanetArk provides guidance | IKEA | |
| Linen and bedding | Good | Reuse Charity | Avalon Centre | West Welcome Wagon | Includes towels, bedding, pillows, sheets, blankets |
| Mattresses | Any | Recycling | Bed Collect | Check your council drop off centre | Bed Collect picks up old mattresses for a small fee |
| Medicines | Any | Safe Disposal | Your local chemist | | |
| Mobile phone | Good with cables | Reuse Charity | Avalon Centre | DV Safe Phones | Remember to wipe data and include cables |
| Mobile phone | Any | Repair | Phone Cycle | | |
| Mobile phone | Broken / Spent | Recycling | Mobile Muster | | |
| Nappies | New | Reuse Charity | St Kilda Mums | | Open bags okay to donate |
| Printer cartridges - lazer or ink jet | Any | Recycling | Officeworks | | |
| Shaving and razor blades | Any | Recycling | TerraCycle | | Any brand of razor, blade and packaging. |
| Shoes, thongs and boots | Any | Reuse & Recycling | Upparel | | Clean / good items deployed to partner charities; lone / damaged items will be recycled |
| Shoes, thongs and boots | Broken / Spent | Recycling | Tread Lightly | | Drop off at Rebel, The Athlete's Foot and more. |
| Silicone | Any | Recycling | Biome | | Silicone products purchased from Biome incl silicone straws, baking sheets, food and bottle covers, Joco cup lids... |
| Socks | Good | Reuse Charity | Avalon Centre | West Welcome Wagon | Provided to ASRC and homeless community |
| Socks - odd socks, socks with holes | Broken / Spent | Recycling | Upparel | | Upparel only recycles socks; donate socks in good condition to Avalon Centre |
| Soft plastics | Clean / Empty | Recycling | Coles / Woolworths (Redcycle) | | Drop at in-store drop off bins |
| Styrofoam | Any | Recycling | Check your council drop off centre | | |
| Thongs (Havianas Brand) | Any | Recycling | TerraCycle | | |
| Toiletries | New | Reuse Charity | St Kilda Mums | Avalon Centre | |
| Toxic Household Items | Any | Safe Disposal | Detox Your Home | Check your council drop off centre | |
| Toys - Any kind | Good | Reuse Charity | St Kilda Mums | Your local Toy Library | |
| Toys - Broken | Any | Recycling | TerraCycle | | Will take any toy, in any condition incl broken and electric toys unsuitable for donation |
| Toys - Plastic toys | Any | Recycling | TerraCycle | | Several programs via TerraCycle |
| Wet suits / Spring suits | Any | Recycling | TerraCycle | | |
| Women's hygiene | New | Reuse Charity | St Kilda Mums | | New menstrual cups, pads, tampons. Open packages okay when products are individually wrapped. |
| Writing Utensils - pens, pencils, textas | Good | Reuse Charity | St Kilda Mums | | Also take calculators and other new stationery for back to school packs |
| Writing Utensils - pens, pencils, textas | Broken / Spent | Recycling | Officeworks | TerraCycle | |
| Xrays | Any | Recycling | Check your council drop off centre | | |
| OTHER ITEMS | ANY | ANY | PlanetArk | Zero Waste Freebies | PlanetArk maintains a brilliant resource. Zero Waste Freebies is a Facebook group dedicated to re-homing basically anything |