News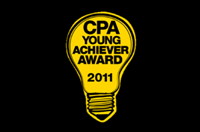 Kearney Group Accountant, Lachlan Ezard, Named CPA Young Achiever Finalist
Congratulations to the Kearney Group's Lachlan Ezard for his outstanding application and selection for the CPA's Young Achiever Awards! This morning, Lachlan was named one of five finalists from across Australia!
In recognition, Lachlan will receive a full CPA Program Scholarship and will be heading to Sydney on September 22, 2011 for the prestigious CFO Awards where the "CPA Young Achiever of the Year" will be announced.
Outstanding work Lachlan and good luck in Sydney!