News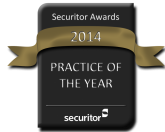 Kearney Financial Planning Named Practice of the Year in 2014
The Kearney Group is pleased to announce that the firm has again been awarded top honours by its licensee, Securitor Financial Group, who named the firm Victoria's Practice of the Year for 2014.
The award was announced during today's Securitor Professional Development Day in Melbourne and follows the Kearney Group's National Practice of the Year title in 2011, Victorian Practice of the Year awards in 2012, 2011 and 2008, and an Adviser of the Year win for the firm's CEO, Paul Kearney, in 2010.
Practice of the Year nominees are assessed against a set of rigorous criteria and each nominee is required to demonstrate a commitment to best practice, ongoing business development, diversified revenue streams and first-class outcomes for clients.
The Kearney Group also wishes to congratulate Senior Financial Planners, Nga Vu and Andrew Mackenzie, for their outstanding efforts over the past year. Their success resulted in a Rising Star nomination for Nga and both an Adviser of the Year and Insurance Adviser of the Year nomination for Andrew at today's Professional Development Day in Melbourne.