News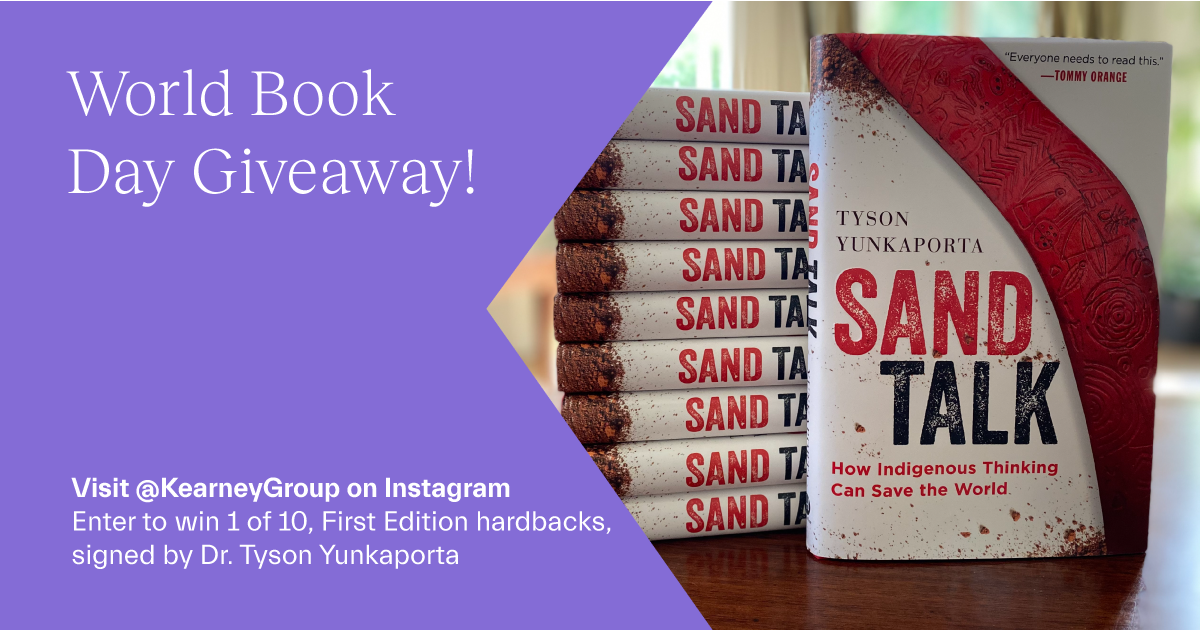 Enter to win World Book Day Giveaway.
Today, April 23, is World Book Day. To celebrate, we're giving away 10 First Edition American hardback copies of Tyson Yunkaporta's global sensation, Sand Talk. Each book has been lovingly signed by the author.
"Sand Talk is quite likely the best book I've ever read," says Kearney Group CEO, Paul Kearney.
"It's beautifully written, partly philosophical and yet, utterly practical. There are so many ideas and so much wisdom that the reader can take with them, back into their lives, work, community, family and relationships," adds Paul.
At Kearney Group, one of our core values is connecting people and ideas. And, what better way to celebrate World Book Day than to share one of the most important and moving reads we've come across in our organisation. (In fact, we found it so moving that we provided seed funding for Tyson Yunkaporat's newest venture… But that's another story).
If you're looking for a riveting, beautifully written, truly unforgettable book, you can enter to win our Sand Talk Giveaway in a few simple steps.
Entry
It's as simple as 1, 2, 3…
Follow @KearneyGroup on Instagram
Tag a friend or fellow bookworm and use the hashtag #giveaway in the comments on our Giveaway Post that goes live today (April 23) at 9:00AM AEST.
Complete an entry form at: kearneygroup.com.au/giveaway-sandtalk
Basic Rules
Our World Book Day Giveaway is open to Australian residents only.
All above steps must be followed for an entry to be valid.
You may tag as many friends as you wish on our Instagram Post / in the comments, however, only one entry per follower / email address will enter the draw.
Giveaway closes 30 April 2021 at 8:59AM AEST (UTC+10:00).
Ten lucky winners will be chosen at random. Winners will be notified by email, and announced on our Instagram page.
This Giveaway is not sponsored, endorsed, administered by, or associated with Instagram.
Entry form and full Giveaway conditions are available at: kearneygroup.com.au/giveaway-sandtalk.
Good luck and happy reading!